Euro NCAP releases the test results of two new cars. The BMW 5 Series gets a top five-star safety rating and FIAT's made-over Doblò gets three stars.
Launched late last year, the seventh-generation BMW 5 Series continues its successful track record in Euro NCAP's Executive Car segment.
The car showed good all-round performance in crash protection and avoidance tests thanks to its new platform, body and updated safety features.
Track tests demonstrated that the autonomous braking system can effectively assist the driver in avoiding or mitigating critical rear-end crashes with other cars and pedestrians.
With an 81 percent score, the 5-series particularly impressed in pedestrian safety through its standard-fit "Person Warning" system and active bonnet.
Thirteen years after the tests on the original FIAT Doblò, Euro NCAP has taken another look at the versatile small MPV. The latest generation Doblò was already introduced in 2010 and is also sold by Opel and Vauxhall brands as Combo.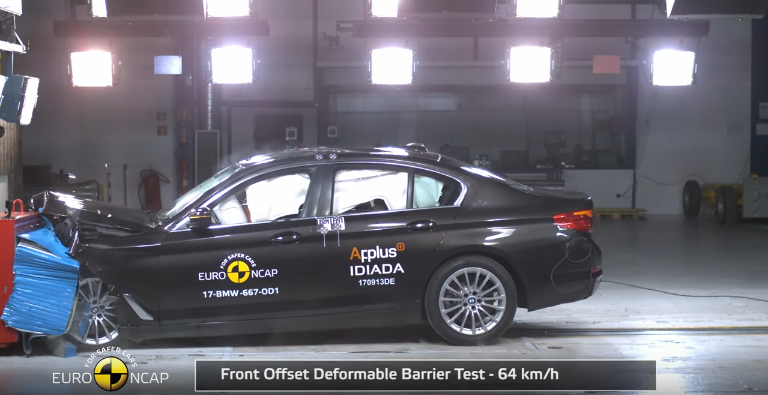 The version tested by Euro NCAP is the 2015 Doblò facelift that includes, apart from small safety updates, cosmetic upgrades aimed at extending the lifecycle of the car.
The three-star Euro NCAP safety rating, however, reveals the car's true age and highlights the lack of ambition to compete on safety with other, more modern competitors in the segment.
The Opel/Vauxhall Combo has not received a similar facelift, so would be expected to end up with even fewer stars, but Opel have their eyes fixed on the future.