The game-changing XE has helped Jaguar to record sales in the first four months of 2016

XE has contributed to the doubling of Jaguar's share of the Corporate Market in the UK

XE has the highest 3year/60k mile residual value in the segment and the lowest CO2 emissions of any non-Hybrid vehicle in the segment at 99g/km

The most advanced, efficient and refined sports saloon that Jaguar has ever produced is priced from £26,990 available to specify at www.jaguar.co.uk
The Jaguar XE has been named as a 'Game Changer' at the Autocar Awards 2016 for 'establishing a new benchmark in its class for handling.'
Jim Holder, Editorial Director of Autocar, What Car? and PistonHeads said: "A new entry into the premium compact executive class is always risky; it's full of such established and competent contenders that any fresh offering has to be truly special.
Everyone at Autocar believes that the XE fulfills its brief perfectly, having redefined the handling benchmark on its first attempt. With its Callum-designed looks and business-friendly figures, we had absolutely no hesitation in naming the XE a 'Game Changer'."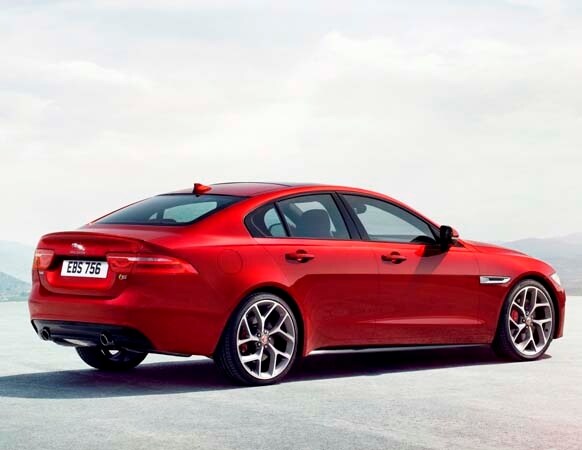 Using Jaguar's advanced Lightweight Aluminium Architecture, and high-tech Ingenium engines, the XE is the most efficient non-hybrid car in its class with fuel economy of up to 75mpg and CO2 emissions as low as 99g/km. As well as its business-friendly emissions the XE also boasts the highest three-year/60,000-mile residual value* in the segment.
Presented at an event in the Silverstone Wing, Jaguar Director of Design Ian Callum – the man responsible for designing the XE – received the award from the Autocar editorial team.
Ian Callum said: "When we first created the Jaguar XE we wanted to make the best looking driver's car which is great value for money. We take great satisfaction to receive validation from Britain's oldest and most respected car magazine and something that everyone at Jaguar Land Rover is immensely proud of."
The XE's innovation, style and value for money has been recognized throughout the automotive industry, beating established rivals to 41 major global awards, including Best New Car at the Fleet World Awards, Telegraph's Car of the Year and Business Car of the Year, Auto Express' Best Compact Executive Car and Business Car of the Year at the BusinessCar Awards.
Jeremy Hicks, Jaguar Land Rover UK MD, said: "We're immensely proud of the XE's awards successes, above all we're very pleased to see XE has been a winner with both private and fleet customers. Already hailed as the best driver's car in its class, the XE was recently updated with all-wheel drive and InControl Touch Pro technology. In fact, the XE has helped transform our UK business with record Jaguar sales in April – that's just one perfect example of why it really is a Game Changer."
Autocar says that its 'Game Changers' are cars that 'have been picked for setting new standards or defying conventions by turning the established order on its head'. Of the XE, Autocar says: "Jaguar hasn't just made an alternative to the big three – offering something a little different, a touch quirky – to snare a few buyers. Instead, it has been brave enough to make a car capable of taking on the established players at their own game."
The 2017 Model Year XE prices start from £26,990 – comes with an optional state-of-the-art InControl Touch Pro infotainment system with a 10.2-inch tablet-style touchscreen that offers intuitive operation, super-fast response times and intelligent navigation. The system offers a Wi-Fi hotspot for up to eight devices, and is compatible with an Apple Watch app, that offers remote functions including fuel level check, lock and unlock, and even remote engine starts.