The final meeting of the 2016 FIA WTCC season, in Qatar, marked the end of Citroën Racing's involvement in the championship.
The Citroën C-Elysée WTCC claimed its fiftieth victory in three seasons, and in his farewell to elite motorsport Yvan Muller secured second place in the World Championship, behind his teammate José María López. Citroën's track racing adventure has come to an end after three consecutive world titles.
José María López clocked the fastest time in Q1 on Friday with 1m59.788s, one second faster than the time that secured him pole in 2015.
In Q2, Yvan Muller and Pechito López immediately claimed the top two positions, before the red flag was brought out. When the action resumed, López once again dipped under the two-minute mark, enough to put him top of the timing screens again, just ahead of Muller.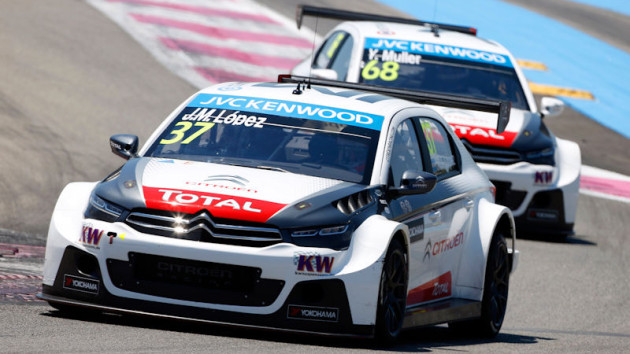 Q3 was an unusual affair. Mehdi Bennani was first out and set a good pace. Norbert Michelisz then crashed out, causing a long delay. After the interruption, both Yvan Muller and José María López were looking good, but both slipped up at the same turn. The few tenths of a second that those errors cost them meant the Argentine driver had to settle for the third best time, with the Frenchman in fourth. It was Mehdi Bennani who then clinched the Citroën C-Elysée WTCC's 31st pole position.
A few minutes later, the SLR team's three drivers were out on track representing Citroën in MAC3. Bennani, Tom Chilton and Grégoire Demoustier produced a flawless performance to score maximum points for the manufacturer.
The opening race got under way long after night had fallen in the Middle East. Having finished tenth in qualifying, Tom Chilton was the man in pole position, with Gabriele Tarquini alongside him. When the lights went out, Chilton was the first man to turn, while Yvan Muller managed to haul himself into fifth place. Back in the chasing pack, José María López was run into by Tiago Monteiro. The Portuguese driver ended up crashing off, which brought the safety car out, followed by the red flag.
Once the track had been cleaned, the race got under way again. Tom Chilton went wide on the first bend and Tarquini took advantage to sneak past. A little further back, Yvan Muller moved up one more place into fourth. Tarquini emerged victorious in the opening race, ahead of Chilton, Huff and Muller. Pechito López staged an impressive recovery to finish ninth.
Fortunately, the team's mechanics had time to repair the cars' bodywork before the final race of the year. Pole sitter Bennani maintained his lead at the first turn, with López just behind him after an excellent start from the second row. Muller held on to fourth place, with Thed Björk in third.
The chasing pack was once again full of incident, and the safety car made an appearance after just one lap. A few drops of rain then came down, but certainly not enough to justify rain tyres. Shortly after the race resumed, Muller was ousted from fourth after a powerful overtaking manoeuvre from Michelisz. A few laps later, López was passed by Björk.
It looked like the race order would remain unchanged until the end: Bennani, Björk, López, Michelisz, Muller. But with just a few laps to go, Tiago Monteiro got the better of his friend and rival Yvan Muller. For Yvan, however, this result was not important. The race marked the end of a magnificent career which has included winning four FIA World Touring Car Championship titles and breaking all the records in the discipline. Upon returning to the pit lane, he received a long ovation from the members of the Citroën Total team. There were red eyes all round, showing just what an emotional moment this was in the history of motorsport.
CITROËN IN WTCC IN FIGURES (2014-2016)
35 meetings and 69 races

31 pole positions (89%): 21 for José María López, 8 for Yvan Muller, 1 each for Sébastien Loeb and Mehdi Bennani

308 starts: 69 for José María López, 68 for Yvan Muller, 47 for Sébastien Loeb, 46 for Mehdi Bennani, 34 for Ma Qing Hua, 22 each for Tom Chilton and Grégoire Demoustier

50 race wins (72%): 28 for José María López, 11 for Yvan Muller, 6 for Sébastien Loeb, 2 each for Ma Qing Hua and Mehdi Bennani, 1 for Tom Chilton

45 fastest race laps (65%): 26 for José María López, 8 for Yvan Muller, 7 for Sébastien Loeb, 2 for Ma Qing Hua, 1 each for Mehdi Bennani and Tom Chilton

119 podium finishes (57% of the maximum possible): 47 for José María López, 34 for Yvan Muller, 20 for Sébastien Loeb, 8 for Ma Qing Hua, 5 each for Mehdi Bennani and Tom Chilton

246 points finishes (80%)

3,736 points scored in the Drivers' World Championship

3,029 points scored in the Manufacturers' World Championship
Yves Matton, Team Principal, Citroën Racing: "This was the Red Army's last appearance in the FIA WTCC. I would like to thank every member of the team for their commitment, their constant thirst for improvement and their willingness to represent Citroën in what was a new discipline for the team.
I will cite two figures to demonstrate Citroën Racing's know-how: 89% of pole positions and 72% of race wins in three seasons.
Thanks must go, too, to José María López and Yvan Muller.
I have been lucky enough to work with these two great champions, who are also great men. And I cannot help thinking of Sébastien Loeb and Ma Qing Hua, who also contributed so much to this success, which I will always remember as an amazing adventure for the people involved."
José María López: "It wasn't an easy last race for us! To a large extent, the result was determined in qualifying. We felt that the track changed during the long delay.
In any case, we can be proud of what we have all accomplished together. Tonight, I'm not really thinking about me. I'm thinking about Yvan. I want to thank him for what he has given me.
I have learnt a lot from working with him and I have enormous respect for him. He has decided to bow out of motorsport while he's still at the top and I wish him all the best in his new life."
Yvan Muller: "There are lots of feelings swimming around in my head, particularly after Pechito's words and the team's celebrations.
It wasn't an easy decision to take and this is an emotional moment for me. All good things must come to an end and I am happy to be retiring now, with these opponents around me.
We have had some tough scraps at times, but there has always been respect between us, and that's why I love this sport. My overwhelming feeling is one of joy.
I've got lots of things to do, what with my team, developing young drivers, and my family. I will have plenty to keep me busy!"