Hyundai Motor's DNA car in Europe, the New Generation i30, celebrates its public debut in Paris

With the world premiere of the RN30 Concept, a born racing machine representing the N sub-brand, Hyundai Motor is celebrating its passion for performance

The New i10 is making its public debut with more emotional appeal and new advanced active safety and connectivity features, presented alongside the IONIQ, the world's first car with three electrified powertrains

Also live on stage in Paris: a preview of the new 2017 Hyundai i20 WRC
Hyundai Motor shows a host of new models in Hall 3 of the 2016 Paris Motor Show, including the world premiere of the New Generation i30, the RN30 Concept, the New i10 as well as a preview of the 2017 i20 WRC and the All-New IONIQ; the first car with three electrified powertrains to choose from.
A car for everyone: The New Generation Hyundai i30
The New Generation Hyundai i30 is the DNA car for Hyundai Motor representing the core of the brand in Europe. Available in early 2017, the third generation of the successful Hyundai i30 is a car for everyone delivering great value to single people, families, young and old.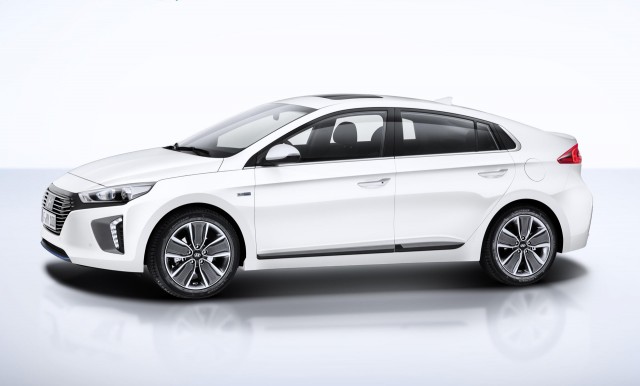 It is a smart and rewarding choice for those seeking an appealing design, an efficient and dynamic ride including the all-new 1.4 T-GDI petrol engine and a 10% more direct steering and a comprehensive safety package with features like Autonomous Emergency Braking and the new driver attention alert system. The New Generation i30 offers all the connectivity features customers are looking for today, like Apple CarPlay, Android Auto, wireless charging and LIVE Services. Its quality and reliability are guaranteed by the unique, industry-leading 5-year unlimited mileage warranty. With design being the No. 1 buying reason for Hyundai customers in Europe, the New Generation i30 further evolves Hyundai Motor's design language with precise and tensed lines, refined rich surfaces and a sculpted body to create a timeless and confident appearance featuring the new family identity: the Cascading grille.
"Our designers are driven by passion and enthusiasm, bringing pride and joy to Hyundai owners. You see and feel this spirit in the New Generation i30 – it is a proud statement," explains Peter Schreyer, President and Chief Design Officer at Hyundai Motor Group. "With the New Generation i30 we are introducing our newly developed front grille: we call it the Cascading Grille. It will become the new identity of Hyundai."
High-Performance Hyundai N concept revealed
Hyundai Motor is also presenting the RN30 Concept, building anticipation of the future high-performance 'N' models. The motor sport-inspired racing concept is developed to deliver passion and pleasure on the track. Based on the New Generation Hyundai i30, the RN30 was born as a racing machine featuring a 2.0-litre turbo engine with 380 PS and an all-wheel drive, developed in close collaboration with Hyundai Motorsport, Hyundai Motor Europe Technical Centre and Hyundai Motor's Performance Development & High Performance Vehicle Division. The striking concept is distinguished by its purposeful aerodynamic design and specialised high-performance technologies.
"The RN30 embodies the concept of a strong, high-performance car that brings dynamic, sporty driving," says Albert Biermann, Head of Vehicle Test & High Performance Development for Hyundai Motor, said. "Soon to evolve into our first N model, the RN30 is inspired by our passion to provide a high-performance car that everybody can enjoy effortlessly."
More style and advanced technology for an even greater package: The New Hyundai i10
At the 2016 Paris Motor Show Hyundai Motor also debuts the New i10 enhanced with new advanced active safety and connectivity features from the segments above, as well as modern design refinements, including the new signature Cascading front grille to enhance its emotional appeal. Responding to customer demand for connectivity features, New i10 includes Apple Carplay, Android Auto and LIVE Services, all integrated into the new seven-inch touchscreen navigation system. In terms of safety it now comes with two new advanced features to actively avoid accidents: a Front Collision Warning System and a Lane Departure Warning System.
"The New i10 showcases Hyundai Motor's promise to democratise technology by offering latest connectivity and safety features from the segments above responding to today's customers' needs," said Thomas A. Schmid, Chief Operating Officer at Hyundai Motor Europe. "The excellent package of the i10, delivering highest value to the customers, has made it one of the best-selling cars in its class and popular with customers across Europe – a success story that the New i10 is set to carry on."
Hyundai Motorsport previews 2017 WRC Challenger
Hyundai Motorsport presents a preview of its 2017 WRC challenger at Paris Motor Show which will make its competitive debut at the Monte-Carlo Rally in next season's FIA World Rally Championship. The team, which is currently second in the WRC manufacturers' classification with 201 points, has been testing its brand new 2017 prototype since April across numerous locations in Europe and in a variety of different conditions. The car, based on a three-door Hyundai i20, has been developed to meet the WRC's 2017 technical regulations, which have given greater aerodynamic freedom to designers.
"The 2017 WRC regulations have allowed all teams to start from a blank page, which has offered us an exciting engineering challenge," says team Principal Michel Nandan. "The changes will raise the level of entertainment in the WRC around the world with wider and more powerful cars. We have been putting our experience from two full WRC seasons into practice as we aim to build on our successful 2016 campaign."
IONIQ – making low-to-zero emission driving accessible
Introduced at the 2016 Geneva Motor Show in March, the All-New IONIQ is also presented live on display at the 2016 Paris Motor Show. The IONIQ is the world's first car to offer hybrid, plug-in hybrid and all-electric powertrains in a single model. This innovative approach from Hyundai Motor democratises e-mobility, making low-to-zero emission driving more accessible to everyone.
Jochen Sengpiehl, Vice President Marketing at Hyundai Motor Europe, said: "With IONIQ, we are appealing to a new customer group, with a shared mindset and attitude - we call them Generation IONIQ. We believe the IONIQ is the best value eco car in Europe, with the best warranty, the best driving range and offered fully equipped for a very competitive price - all with no compromise on great design, driving pleasure and new connectivity features. It's a car that is truly driven by e-motion."
The IONIQ Hybrid and the IONIQ Electric will be launched in European markets from autumn 2016 onwards. The IONIQ Plug-in will be launched in Europe during 2017.