The New Citroën Dispatch is set to become the ideal partner for Irish professionals, with enhanced practicality, comfort and safety stemming from new design features,architecture and technologies with pricing starting from €21,500 inc VAT.
Citroën is delighted to introduce a new generation of the ever popular Dispatch LCV, featuring new technologies, design features and architecture, as well as functions that are new to the segment. The New Citroën Dispatch is the first vehicle of its type to offer hands-free sliding side doors and a head-up display, as well as numerous other technologies that make working lives easier and safer.
Designed with a wide range of professionals in mind (including tradespeople, construction workers, local authority employees and delivery and service professionals), the new vehicle will be available in van, Combi and Crew Van versions, as well as being specified in three lengths (XS: 4.60m, M: 4.95m and XL: 5.30m).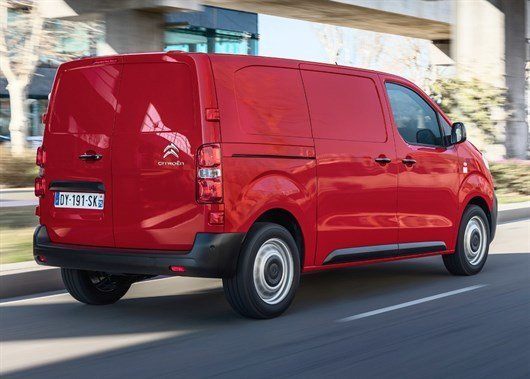 Launched in 1995, the original Citroën Dispatch sold 600,000 units. New Dispatch joins the legendary Berlingo and the award-winning Relay as part of Citroën's broad modern range of LCVs.
The New Citroën Dispatch features:
A flowing and modern design with characterful styling.

An efficient, adaptable architecture that delivers greater functionality, practicality and user-friendly features. Based on the EMP2 modular platform, it offers up to 1,400kg of payload capacity, 6.6m3 of load volume and can tow up to 2,500kg.

Three lengths, including an all-new version at just 4.60m as well as the core market 4.95m and 5.30m versions. As with the two longer lengths (M and XL), the XS version also has a payload of up to 1,400kg and, in Combi form, can transport up to nine people.

A height of just 1.90m for the XS and M versions, making for easy underground car park access, which is unusual in the segment and a rarity amongst competitor vehicles.

Unrivalled modularity in the segment with the Moduwork feature. The side passenger seat can be lifted to provide extra space with a flat floor and a large flap in the bulkhead, offering a useful length of up to 4m.

A welcoming interior, a high-set driving position and a host of storage compartments for improved physical and mental well-being. Comfort is heightened through top-flight acoustic treatment and an optimised ride.

Best-in-class fuel consumption and CO2emissions (BlueHDi 115 S&S 6-speed manual: 137g/km of CO2)
The New Citroën Dispatch possesses flowing, aggression-free styling that conveys a sense of assurance and robustness.
The front end consists of a short, horizontally-styled bonnet underscored by broad, high-set headlights, denoting a commanding view of the road.
The brand signature is positioned as part of the grille, extending from both sides of the chevrons to the insides of the headlights. The front features a broad reassuring bumper with built-in black air intakes, emphasising the robust styling of the new model.
From the side, with its wide sliding side doors, the New Dispatch promises a capacious interior and suggests the broad range of conversion possibilities available.
EFFICIENT NEW MODULAR PLATFORM
The New Citroën Dispatch is built on a latest-generation modular platform (based the EMP2 platform), which has been designed specifically for the new model. The platform has a reinforced structure with special new front and rear axles. It supports a payload of up to 1,400kg and can tow up to 2.5 tonnes.
The modular design is reflected in two wheelbase lengths (2.93m and 3.28m) as well as two rear overhangs (0.80m and 1.15m). These can be combined into three lengths: XS at 4.60m (a segment first) with the short wheelbase and M at 4.95m, and XL at 5.30m with the long wheelbase.
The new platform presents the possibility of compact exterior dimensions, while boasting load volumes of up to 6.6m3.
That same compact design applies to the height of the New Dispatch. At just 1.90m, it is ideal for all situations and locations, including underground car parks in city centres and shopping centres.
The New Dispatch is available in a wide range of configurations, including:
Vans: available in three lengths, the vans mainly target professionals requiring large load volumes (up to 6.6m3). With two trim levels they can be adapted to suit every need.
Combis: The Combi model available in the M version can accommodate as many as nine people. This version address the transport needs of organisations to move people, such as local authorities, who require the maximum number of seats and volume.
PRACTICALITY FOR ALL USES
The New Citroën Dispatch is the ideal partner for professionals looking for a work tool that makes their everyday lives easier. Ingenious, modern and functional, the New Citroën Dispatch features:
Moduwork: the modular design of the front passenger seat, a special bulkhead and a flat floor extends the maximum load length of the New Dispatch by 1.16m. Furthermore the cabin can truly function as a mobile office, with the central arm rest lowering to provide a pivoting table with an elastic and adhesive strip to keep objects in place (such as PCs or tablets). In addition, special holders for smartphones and tablets are available as accessories.
250° opening doors: available as an option on the XL version (5.30m), they do not infringe on pavement space when parking kerb-side and also make moving around the vehicle easier (Please note the XL versions will not be available in production until early 2017)
Numerous storage compartments: the front of the cabin is home to a lower glove box with a jack, 12V socket and USB socket, a large storage space under the passenger seat is ideal for shoes or construction helmets. Cup holders are specified on both sides of the dashboard. A central upper storage area and two door bins large enough for 1.5-litre bottles of water are also featured.
CLASSIC CITROËN COMFORT FOR PROFESSIONALS
The New Citroën Dispatch interior is influenced by both the comfort of modern cars and the practical demands of contemporary professional life.
The slightly raised dashboard inspires a feeling of reassurance and, combined with the high-set and relaxing driving position, delivers a commanding view of the road. The dashboard was designed so that drivers have everything at their fingertips and in their line of sight, including the instrument cluster, the 7-inch touchscreen, heating controls, storage areas and the buttons for the motorised sliding side doors.
The seats are upholstered in robust materials for top-level comfort. The New Dispatch is available with a cloth trim with a graphic design (Mica).
The van and Crew Van versions of New Dispatch are equipped with non-removable load stops (compliant with European ISO 27956 regulations on load safety and passenger protection in the event of load slippage). As an option, it is also available with an alternative to conventional bulkheads, the 'Comfort' bulkhead. This new feature ensures the safety of occupants and also brings them extra comfort through the use of foam, providing more thermal protection and soundproofing than regular bulkheads. In addition, the Comfort bulkhead has a light cloth trim and a polycarbonate window that allows more light into the cabin. For extra physical well-being, the bulkhead increases the reclining angle of the driver's seat by 8.5° and rearward seat travel by 40mm (depending on the seat setting) compared with a conventional bulkhead.
No matter what the road surface is like, the New Citroën Dispatch boasts impressive ride comfort thanks to its running gear, which provides ultra-precise steering while retaining excellent damping. The New Dispatch is equipped with a reinforced Pseudo MacPherson front axle with an anti-roll bar and a new oblique-wishbone rear axle, making it possible to support a payload of 1,400kg.
In addition, for maximum comfort, loaded or unloaded, the springs feature variable stiffness and the shock absorbers are load-sensitive. This 'passive' system adjusts springing and damping to vehicle use.
Together, the two axles deliver a perfect combination of road holding and ride comfort, loaded or unloaded, while offering top-flight driving pleasure considerably superior to the segment norm.
TECHNOLOGIES THAT MAKE LIFE EASIER
In addition to the useful everyday functions such as keyless entry and start,the New Citroën Dispatch features the following technologies that make driving easier:
A new 7-inch tablet for controlling all the media, telephone and navigation functions, featuring a touchscreen for effortless, fingertip precision.

Head-up display, allowing drivers to consult essential driving information (actual and recommended speed, cruise control/speed limiter setting, navigation instructions, and collision risk alerts) on a transparent panel in their direct line of vision while keeping their eyes on the road. This is a first for a vehicle in this segment.

Grip Control, an upgraded anti-skid system that optimises wheel grip consistent with the road surface. Grip Control can be combined with the All Road Pack (bigger payload, 20mm higher suspension, protective plate under the engine) enhancing the traction of New Dispatch on rough terrain, including construction sites, tracks and dirt roads.
The New Dispatch is packed with technologies to provide a safe and relaxed driving experience. It can be equipped with:
A speed limiter with road sign recognition and recommendations. This all-new system works using a camera in the upper part of the windscreen and supplements the data from the navigation system. When the camera detects a speed limit sign, drivers can touch a button to accept a speed recommendation and use it as a basis for their cruise control/speed limiter settings.

-Active Safety Brake, which serves to apply vehicle braking on behalf of the driver based on information from the multi-function camera in the upper part of the windscreen, in the following cases:

o 0 to 30 km/h: preventing collisions with moving or stationary obstacles or pedestrians.

o Above 30 km/h: reducing speed before impact.

The ultrasonic blind spot monitoring system informs drivers if a vehicle is present in their blind spot via an orange light in the door mirror. Comprising of four sensors located in the front and rear bumpers, the system is active above 7mph.

Adaptive Cruise Control, which enables the vehicle to adapt to the speed of the car in front. It is able to reduce the vehicle speed to 12mph working purely on the basis of acceleration. The system is particularly well adapted to heavy, but moving traffic.

Collision Alert. This system informs drivers of situations of imminent collision risk so that they can react. A sound and visual alert activates just before the activation of the automatic braking. The system activates at two thresholds:

o Critical level 1: orange alert informing drivers that they are too close to the vehicle in front.

o Critical level 2: red alert informing drivers that they must brake.

Lane Departure Warning System (LDWS), which alerts drivers when the vehicle crosses a white line with the indicator off. The system detects the involuntary crossing of road lines (continuous or dotted) and alerts the driver with a sound signal and a visual display on the instrument cluster.

Driver Attention Alert. This system monitors the behaviour of the driver via the multi-function camera, located on the upper part of the windscreen, while recording the frequency of involuntary lane movements. If the driver's vigilance reduces, they are alerted by a sound and visual signal.
LATEST-GENERATION ENGINES
The New Citroën Dispatch is available with three powertrains, with all models featuring diesel engines from the BlueHDi family. This new generation of engines, launched by Citroën in late 2013, considerably cuts nitrogen oxide (NOx) emissions while reducing CO2 emissions thanks to an innovative exhaust system comprising:
An oxidation catalyst located at the engine exit to eliminate the hydrocarbons (HC) and carbon monoxide (CO) produced by combustion.

A Selective Catalytic Reduction (SCR) module, positioned ahead of the particulate filter to transform, via the injection of Adblue®* (a water/urea mix), up to 90% of nitrogen oxide (NOx) into water vapour (H2O) and nitrogen (N2).

A particulate filter, launched in a world first by PSA Peugeot Citroën in 2000, to eliminate 99.9% of particulates.
The innovative and unique exhaust line architecture is structured by a precise layout of technologies. The SCR module positioned ahead of the particulate filter is the only post-treatment system capable of reducing NOx emissions by up to 90% while cutting CO2 emissions by up to 4%.
The diesel engines powering the New Citroën Dispatch deliver the following combined cycle fuel consumption and CO2 emissions (XS length)**:
BlueHDi 95 manual (70kW): 51.4mpg and 144g/km of CO2
BlueHDi 115 S&S 6-speed manual (85kW): 55.4mpg and 133g/km of CO2
BlueHDi 120 6-speed manual (90kW): 51.4mpg and 144g/km of CO2
*The Adblue® tank is filled easily via an exterior filling flap, which is located in the middle door pillar and is concealed when the driver's door is closed.
** Non-country specific figures –Irish figures may vary.
The new variant of the EMP2 platform benefits from all of that platform's advantages, enabling the integration of BlueHDi diesel engines. These latest-generation engines, combined with an aerodynamic vehicle body and controlled mass (100kg to 300kg lighter than other vehicles in the segment with the same power), deliver the lowest fuel consumption and CO2 emissions in the segment.
The Irish range and pricing is as follows:
| | | | | |
| --- | --- | --- | --- | --- |
| Body style & Trim Level | Length | Engine | C02 Emissions | RRP |
| Panel Van | XS | Blue HDi 95 manual | 144 | €21,500.00 |
| Panel Van | M | Blue HDi 95 Manual | 144 | €22,500.00 |
| Panel Van | M | Blue HDi S&S 6-speed manual | 137 | €24,000.00 |
| Panel Van | XL* | Blue HDi 120 S&S 6-speed manual | 139 | €26,000.00 |
| Enterprise | XS | Blue HDi 96 manual | 144 | €23,500.00 |
| Enterprise | M | Blue HDi 95 manual | 144 | €24,500.00 |
| Enterprise | M | Blue HDi 115 6-speed manual | 137 | €26,000.00 |
| Enterprise | XL* | Blue HDi 120 S&S 6-speed manual | 139 | €28,000.00 |
| Crew Van | M | Blue HDi 120 S&S 6-speed manual | 147 | €32,000.00 |
| Crew Van | XL | Blue HDi 120 S&S 6-speed manual | 147 | TBC |
| Platform Cab | M | Blue HDi 120 S&S 6-speed manual | 176 | TBC |
| Combi | M | Blue HDi 115 S&S BVM6 | 137 | €33,800.00 |