Volkswagen Commercial Vehicles claims top Van Fleet World Honours award

Brand is named Manufacturer of the Year in 2017 awards

New services and initiatives aimed at fleets are key to success

Crafter wins first UK awards: named 'Best New Van' and 'Best Large Van'
Volkswagen Commercial Vehicles has taken home the triple crown from the 2017 Van Fleet World Honours, with the brand winning the 'Manufacturer of the Year' award and the new Crafter claiming the 'Best New Van' and 'Best Large Van' accolades.
Van Fleet World judges commended Volkswagen Commercial Vehicles' work over the past 12 months, with a number of initiatives piloted by the brand now being adopted by the Van Centre network.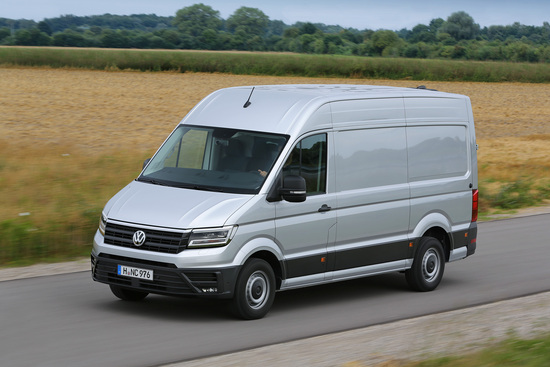 Commenting on the win, Dan Gilkes, editor of Van Fleet World, said: "Volkswagen has worked hard over a number of years to develop an outstanding Van Centre network that delivers a dedicated service to fleet and retail customers across the UK. However in the last 12 months the brand has piloted a number of initiatives that are now being adopted by the network, all aimed at improving service for fleet customers. It seems to be working too.
Volkswagen is number two in the UK light commercial vehicle market with sales having doubled since 2009. More importantly, the company recorded record levels of customer satisfaction in 2016, making it a worthy winner of our Van Manufacturer of the Year Award."
Initiatives introduced include head of business development support at every Van Centre, with Volkswagen Commercial Vehicles ensuring the needs of trade customers are being fully met through business experts employed at each location. An extended hours offer is also being rolled out across all Van Centres, along with Mobile Service Clinics.
The new Crafter also picked up two key awards – its first in the UK after being named International Van of the Year in September 2016. In awarding the Crafter its Best New Van and Best Large Van accolades, the Van Fleet World judges said: "It's not often that a van manufacturer has the chance to create a new vehicle, not just from a clean sheet of paper, but with a completely new factory dedicated to its production. Volkswagen has grabbed the opportunity with both hands, to meet the needs of large van users in every sector."
Praising its wide range of drivetrains, bodies, engines and driver assistance systems, Gilkes concluded: "Volkswagen had one chance to get new Crafter right and it seems to have hit the spot first time."
Chris Black, head of fleet at Volkswagen Commercial Vehicles, collected the awards on behalf of the brand at the ceremony in London. He said: "We're overjoyed to be named Manufacturer of the Year and for all of the brand's hard work to be recognised. It's also great for the all-new Crafter to have its first two UK awards, reinforcing the strength of the brand and quality of our products."