Supporters include Lord March, Brian Johnson, Martin Brundle, Jeremy Clarkson...

Eagle Low Drag GT just entered

Ross Brawn doing two Scottish stages

Priceless original Lightweight E entered

Over 100 E-types participating

Raising awareness of, and funds for, prostate cancer

More cars still needed
"The E-type Club ROUND BRITAIN COASTAL DRIVE, supporting Prostate Cancer UK" is really gathering momentum now.
Over 100 Jaguar E-types have already booked for one or more of the 18 daily stages round the coastal roads of Great Britain. One of those is Formula 1 legend Ross Brawn who masterminded Michael Schumacher's seven World Championships.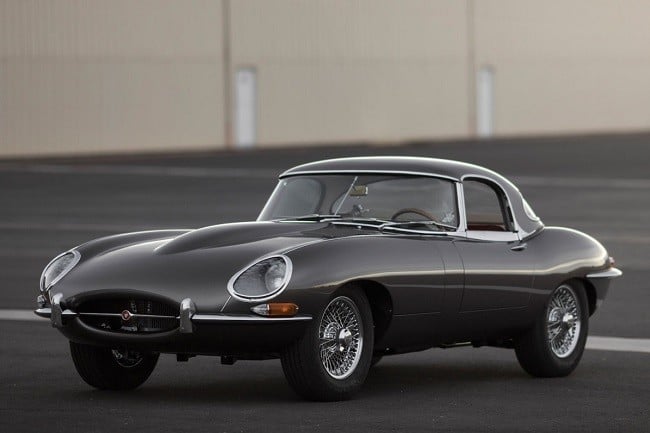 Brawn has a fantastic collection of cars, reflecting his time with Ferrari, Mercedes-Benz and Jaguar, including a pair of stunning E-types.
'I think this sounds like a very different and interesting event, supporting a very worthwhile cause. I have booked for two stages and am looking forward to enjoying the fantastic coastal roads of Scotland in my Jaguar E-type.'
Another F1 legend involved is Martin Brundle. 'As a Jaguar E-type owner I am delighted to be a Supporter of this unique event for a very good cause.'
In the historic motor racing world, Goodwood hosts the finest events, thanks to the creativity and drive of Lord March. 'I am delighted to offer Goodwood as the venue for both the start and finish of this unique event, and to support this very worthwhile cause that is of vital importance to men everywhere.
'Goodwood played a significant role in the original E-type story and these beautiful cars have entertained the crowds in more recent years at our Goodwood Revival meetings.'
This unique event is all about E-types, as well as people. The owner of one of the two fabulous Eagle Low Drag GT E-types has just signed up and this stunning creation by Eagle, one of the leading E-type specialists in the world, is bound to cause tremendous interest.
Jaguar originally built just 12 very special aluminium Lightweight E-types for racing at Le Mans and Sebring. They were driven by World Champions Jackie Stewart, Graham Hill and Jack Brabham. One, arguably the ultimate Lightweight E, was built with a special Low Drag body. This unique car, which has a value between £5m and £10m, has just been entered by eminent Jaguar restorer Classic Motor Cars.
These two cars span the complete spectrum from ultimate period E-type to ultimate modern E-type-inspired creation.
'I am overwhelmed,' says E-type Club founder and author Philip Porter who has recently recovered from prostate cancer and conceived this event. 'The support we are getting from owners and high profile friends is just amazing.
'It feels really good to be using our lovely cars in this very constructive way. Our aim is to raise awareness of this killer cancer from which one in eight men suffers.'
Growing list of Supporters includes Brian Johnson, Jeremy Clarkson and Derek Bell who will be flagging the cars away at Goodwood.
The facts: Start: Goodwood, Sept 12. Average 180 miles per day. 18 daily stages. Finish: Goodwood Sept 29. Full mechanical back-up. JLR Support Vehicle. Evening events/receptions. Route breakdown on www.e-typeclub.com. Various fund-raising initiatives underway. JustGiving page on E-type Club website...
What RBCD means: supporting the vital work of Prostate Cancer UK – using our E-type Jaguars for the benefit of men everywhere – enjoying some stunning driving routes – reaching out to the public with our beautiful cars – working with local and national media – sampling the contrasting and fabulous coastal scenery - participating in a unique event.