Turkington and Collard also win during Croft BTCC thriller
Ashley Sutton stormed to his breakthrough Dunlop MSA British Touring Car Championship victory in a thrilling finale at Croft, with Colin Turkington and Rob Collard also taking wins on an exciting race day in North Yorkshire.
Sutton's success means that the BTCC boasts ten different winners from the opening 15 races of the 2016 season.
Turkington led home team-mate Jason Plato in the opener to score the first ever one-two finish for Silverline Subaru BMR Racing. It was a podium of firsts as Sutton took his maiden rostrum for MG Racing RCIB Insurance.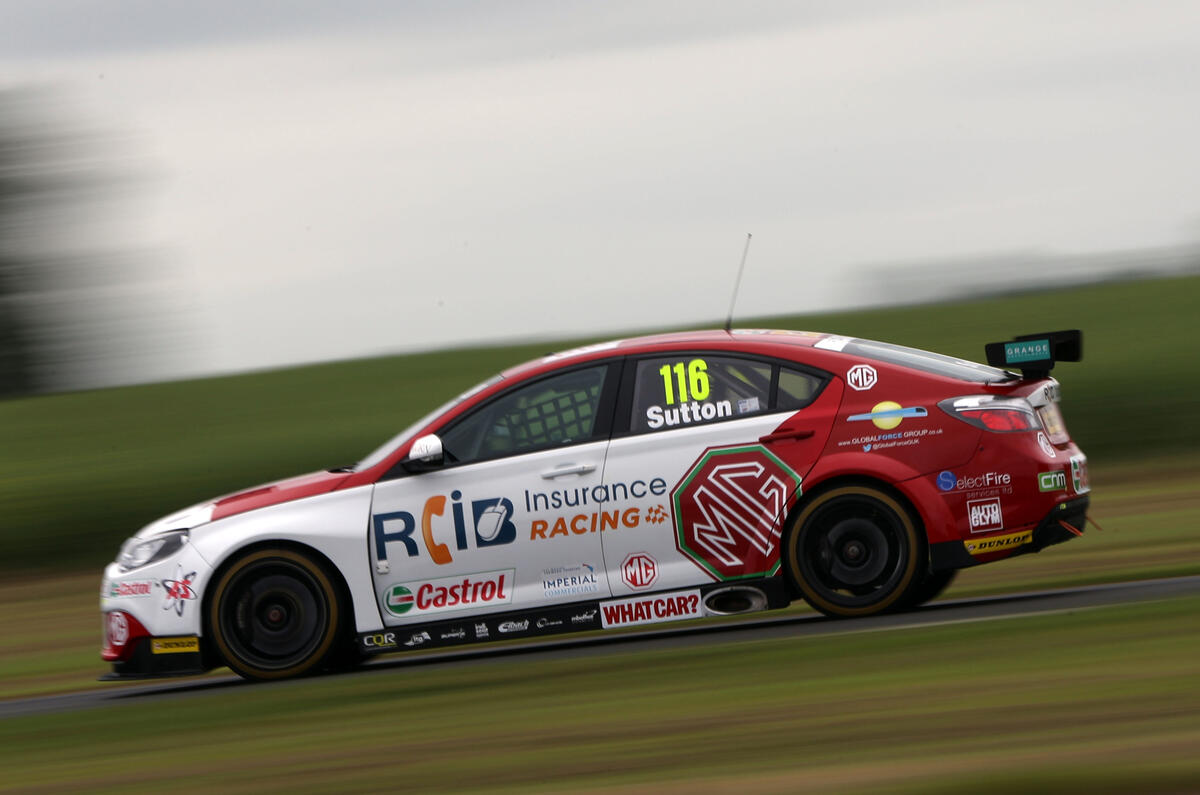 Double champion Turkington was in command for the duration although he had to contend with the attentions of Plato, plus three safety car periods and an early attack from fellow front row starter Daniel Lloyd.
Lloyd's Eurotech Racing Honda made a great getaway off the line, which left him on the outside of Turkington going into turn one. When the young rookie turned in, however, inevitable contact followed, firing the Civic Type R into the gravel and out of the race.
Turkington dealt with each of the safety car interruptions consummately, and although Plato kept him honest after getting his own stellar start, the Ulsterman held him at arm's length to take his second victory of the season.
Sutton produced a defensive driving master class as Jack Goff's Team IHG Rewards Club BMW searched for a way past for the entire 18-lap battle. Goff looked to have secured the deal on a number of occasions but Sutton would not be denied his first BTCC podium.
Collard claimed victory in the second contest after Subaru's Turkington and Plato dramatically clashed while battling for the lead.
The duel between Turkington and Plato provided the main storyline throughout the race, which initially seemed to favour the latter. Plato made another brilliant start and was able to sail around the outside of his team-mate into Clervaux.
Turkington hounded his Silverline Subaru BMR Racing stablemate during the early stages and regained the lead at Tower on lap four, but the battle was far from over. The pair then made contact going into the same corner at mid-distance, sending both cars sliding wide, as the West Surrey Racing duo of Goff and Collard looked on.
Goff hesitated slightly in the melee but Collard needed no second invitation as he blasted his Team JCT600 with GardX machine from fourth to first in the blink of an eye. As the Subarus straightened out it was Plato in second with Turkington now demoted to third.
The incident seemed to stunt the pace and progress of both Subarus, leaving the top four places unchanged until the finish, handing Collard a well deserved victory and a landmark 50th podium in his BTCC career. Plato and Turkington completed the rostrum positions, with Goff taking a hard earned fourth.
The first wet BTCC race since Brands Hatch in 2014 – 44 races ago – left teams scrambling for Dunlop Blu Response wet tyres prior to the start of the final encounter, although the likes of Gordon Shedden and Mat Jackson gambled unsuccessfully on slicks.
Pole-sitter Sam Tordoff held station from Tom Ingram and Goff in the early running, with Sutton trailing Turkington's Subaru in fifth as the rain lashed down at the 2.1-mile circuit.
Despite an early safety car intervention, the action resumed in enthralling style as Turkington flung his car around the outside of Goff's BMW at Tower, with Sutton's MG following suit at the next turn.
Sutton clipped Turkington at the Hairpin on lap nine to move into third, with Collard also slipping by his former WSR team-mate.
MG's Sutton was soon past Ingram on the approach to the Esses and he immediately set about hunting down race leader Tordoff. He was further aided by a late safety car period, which gave Sutton two laps to make a move on the Team JCT600 with GardX BMW, and that's exactly what he did on the penultimate tour.
Clearly carrying much more speed and balance than the rear-wheel drive BMW in wet conditions, Sutton flew by Tordoff at Sunny and never looked back as he claimed a famous first win.
Tordoff had to make do with second, extending his championship lead in the process, while Ingram joined him on the podium.
Collard continued his scrap with Turkington until the finish, with the latter being further forced down the order after a final corner nudge from Josh Cook's MG. That allowed Andrew Jordan's Pirtek Racing Ford to nip opportunistically by, eventually leaving Turkington down in seventh.
Tordoff now leads team-mate Collard by 12 points in the Drivers' standings, rounding off a celebratory weekend for Team JCT600 with GardX on the 70th anniversary of sponsor JCT600. Halfords Yuasa Racing's Matt Neal is a further three points adrift while Jordan and Goff sit fourth and fifth respectively.
West Surrey Racing extended its advantage over Honda/Team Dynamics in the battle for Manufacturers'/Constructors' honours, with the Japanese marque enduring a difficult weekend at Croft.
Unsurprisingly Team JCT600 with GardX leads the Teams' order, whilst Jordan and Motorbase Performance top the respective Independents' tables.
Sutton's sensational day saw him take a hat-trick of Jack Sears Trophy wins, further cementing his overall control of that category.
A number of drivers also reached significant milestones at Croft today with a quartet of competitors having now clocked up 950 BTCC between them - Collard (400 races), Shedden (300), Rob Austin (150) and Goff (100).
Colin Turkington said: "It was great to come away with another pole position, podium and win and a good haul of points – if you'd offered me that before the start of the weekend, I would have been happy with it. We're moving the Subaru Levorg package forward and definitely looking strong now. We knew this place would suit us better than some other circuits, but you can never be over-confident and I certainly didn't expect to have such a big margin in qualifying. Our pace was good throughout the weekend, and we were able to capitalise on that – it really highlights all the hard work that everybody in the team has put in, and it's very rewarding to see smiles back on faces. We've proved we can race up at the sharp end now."
Rob Collard said: "To bounce back the way we have here after Oulton Park – where we had cracking pace but came away with very little to show for it – is a massive result for the whole team. Qualifying at Croft dealt us another blow, but we fought like a lion in all three races and our reward is to be up to second in the championship, having halved the points gap to Sam [Tordoff] going into the summer break. To be first and second in the Drivers' table now – on the weekend when I made my 400th BTCC start and JCT600 celebrated its 70th anniversary – is fantastic."
Ashley Sutton said: "What a weekend! I love Croft – it's a fantastic track – and I've achieved good results here in other championships. We knew it was never going to be our best circuit of the season as a front-wheel drive car, so to score my first BTCC podium was already a great achievement but to then go and win my first race topped it all off. I knew the MG6 would be strong in the wet and I love conditions like that so I was doing a bit of a rain dance in the garage and when it came, I thought 'game on'. We definitely showed what we are capable of, and even without the final safety car period, I was confident of catching [Sam] Tordoff – it just made the job a little bit easier. The car was on rails in that race – absolutely mega!"
Sam Tordoff said: "All things considered, it's been a tough weekend. To qualify fifth on maximum ballast was a good start, but then it all went wrong in race one with the engine problem. I really thought it was going to go bang, so to get to the end and score some points was a real relief. The boys pulled off a complete engine change before race two which was the key to our weekend because it allowed us to finish eighth in race two, earning us the reverse grid pole for race three. Massive credit to the team for that turnaround. It was pretty frustrating to lose the lead so close to the end, but I knew Ash [Sutton] was driving quite aggressively and not holding anything back and had nothing to lose whereas I had everything to lose."
Jason Plato said: "It's been a really successful weekend for Silverline Subaru BMR Racing. We made further progress with the car, and to come away with podiums in races one and two was great. Race three was my first in rear-wheel drive in the wet, and it took me a few laps to find my feet and understand the grip levels before I properly got into the groove, but it was a useful experience and now I know what to expect next time. We take some great data away from Croft and know what areas we still need to work on – we're homing in."
2016 Dunlop MSA British Touring Car Championship – Round 13
1
Colin TURKINGTON (GBR)
Silverline Subaru BMR Racing
29m56.374s
2
Jason PLATO (GBR)
Silverline Subaru BMR Racing
+1.353s
3
Ashley SUTTON (GBR)
MG Racing RCIB Insurance
+2.305s
4
Jack GOFF (GBR)
Team IHG Rewards Club
+2.689s
5
Andrew JORDAN (GBR)
Motorbase Performance
+6.429s
6
Jake HILL (GBR)
RCIB Insurance Racing
+7.136s
7
Robert COLLARD (GBR)
Team JCT600 Racing with GardX
+7.306s
8
Mat JACKSON (GBR)
Motorbase Performance
+8.025s
9
Tom INGRAM (GBR)
Speedworks Motorsport
+8.279s
10
Aron SMITH (IRL)
BKR
+9.191s
2016 Dunlop MSA British Touring Car Championship – Round 14


1 Robert COLLARD (GBR)
Team JCT600 Racing with GardX
23m59.017s

2 Jason PLATO (GBR)
Silverline Subaru BMR Racing
+2.341s

3 Colin TURKINGTON (GBR)
Silverline Subaru BMR Racing
+5.152s

4 Jack GOFF (GBR)
Team IHG Rewards Club
+7.038s

5 Ashley SUTTON (GBR)
MG Racing RCIB Insurance
+12.363s

6 Mat JACKSON (GBR)
Motorbase Performance
+15.335s

7 Tom INGRAM (GBR)
Speedworks Motorsport
+15.815s

8 Sam TORDOFF (GBR)
Team JCT600 Racing with GardX
+16.062s

9 Andrew JORDAN (GBR)
Motorbase Performance
+17.782s

10 Matt NEAL (GBR)
Halfords Yuasa Racing
+18.117s

2016
Dunlop MSA British Touring Car Championship – Round 15


1 Ashley SUTTON (GBR)
MG Racing RCIB Insurance
32m50.206s

2 Sam TORDOFF (GBR)
Team JCT600 Racing with GardX
+1.337s

3 Tom INGRAM (GBR)
Speedworks Motorsport
+2.284s

4 Robert COLLARD (GBR)
Team JCT600 Racing with GardX
+2.860s

5 Andrew JORDAN (GBR)
Motorbase Performance
+3.759s

6 Josh COOK (GBR)
MG Racing RCIB Insurance
+4.324s

7 Colin TURKINGTON (GBR)
Silverline Subaru BMR Racing
+4.683s

8 Aron SMITH (IRL)
BKR
+4.947s

9 Jack GOFF (GBR)
Team IHG Rewards Club
+5.942s

10 Jason PLATO (GBR)
Silverline Subaru BMR Racing
+6.290s
Matt Neal was officially reprimanded and received two penalty points for an incident involving Rob Collard
Gordon Shedden was officially reprimanded and received two penalty points for an incident involving Aiden Moffat
Kelvin Fletcher was officially reprimanded and received two penalty points for an incident involving James Cole
Kelvin Fletcher received a verbal warning for an incident involving Dan Welch
Rob Austin was officially reprimanded and received two penalty points for overtaking under yellow flag conditions
Chris Smiley was officially reprimanded for gaining an unfair advantage during an incident involving Jeff Smith