Fourth generation Mégane available to order in UK from May, in showrooms from July

Six trim levels across a 25-strong version line-up

Unique-in-class technologies such as 4Control four-wheel-steering and 8.7-inch portrait touchscreen infotainment system

Two dCi and two TCe engines with manual & EDC transmissions

CO2 emissions from just 96g/km & economy of up to 76.4mpg

5-star Euro NCAP rating and high levels of ADAS equipment

Built on the new Renault-Nissan Alliance 'CMF' platform, manufactured for Europe in Palencia, Spain

4-year warranty and Renault Assistance package standard

Sport Tourer model to follow later in 2016

Hybrid Assist and dCi 165 versions to follow in 2017

Priced from £16,600 on-the-road
Renault's fourth-generation Mégane is available to order from today and will arrive in UK showrooms from July. Unveiled at the 2015 Frankfurt Motor Show, the All-New Mégane hatchback displays Renault's design language, as well as features and technologies from the executive segment above, into the family car C-segment for the first time. The All-New Renault Mégane will be priced from £16,600 on-the-road.
The Mégane is being offered in a 25-version line-up based on six trim levels familiar to owners of other Renault vehicles – Expression+, Dynamique Nav, Dynamique S Nav, Signature Nav, GT-Line Nav and GT Nav. All provide a comprehensive standard specification, rising to the truly luxurious or sporty at the top-of-the-range.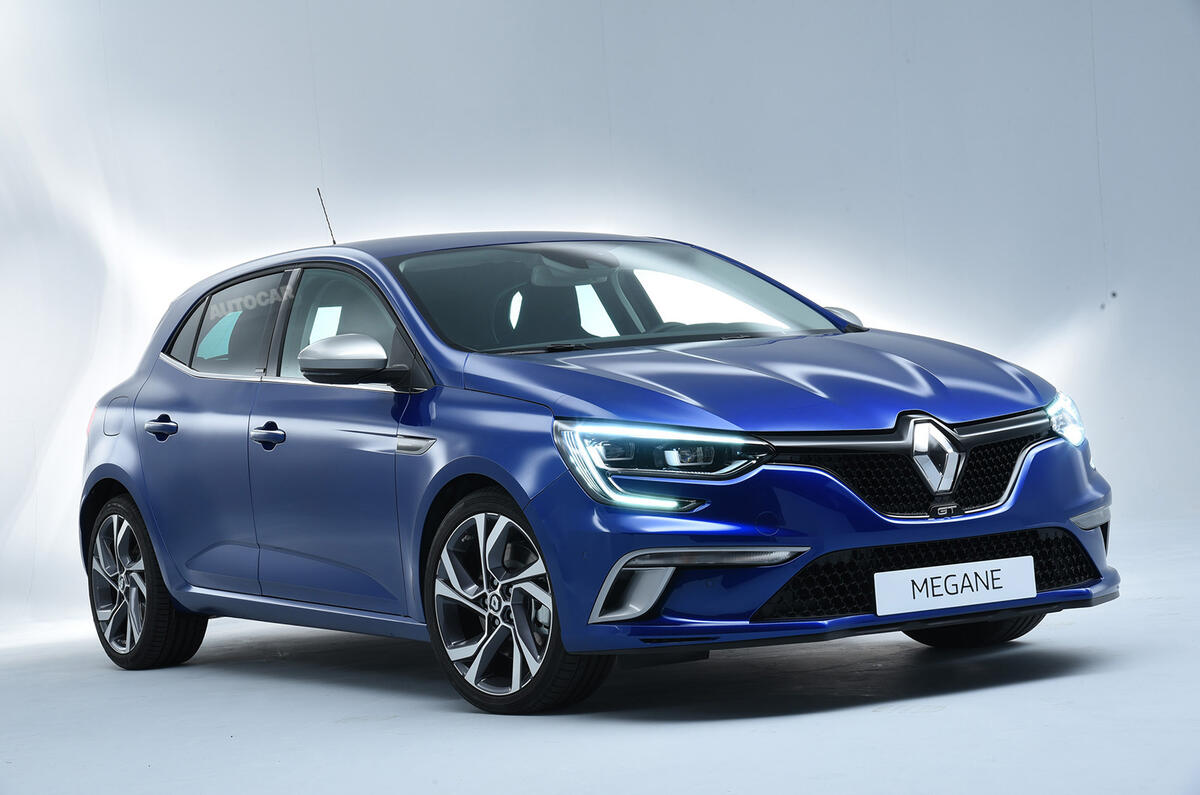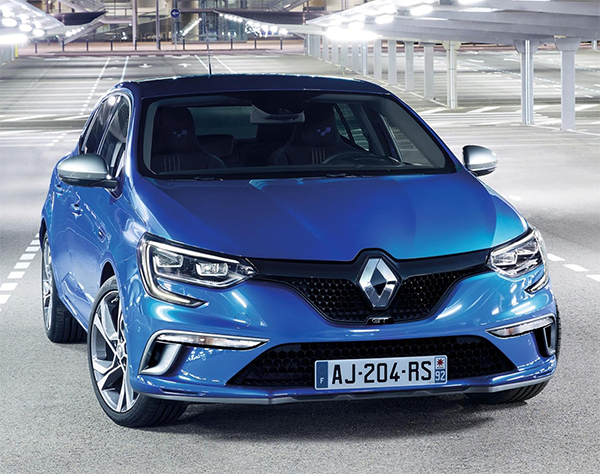 Renault's active and passive safety systems, such as adaptive cruise control, active emergency braking and lane departure warning have been applied throughout the range, while connectivity via the easy-to-use R-Link 2 system is fitted to all models above Expression+.
Standard safety features include ABS with Electronic Brake-force Distribution, ESC (Electronic Stability Control) with traction and understeer control, cruise control, speed limiter, Hill Start Assist, six airbags, seat belts with load limiters and pretensioners at the front, side impact protection bars and ISOFIX child-seat mounting points on the two outer rear seats.
Ensuring a comfortable and convenient journey for all occupants, all versions provide a two-way adjustable steering column, height adjustable driver and passenger seat, Bluetooth connectivity, accessory power point, a 12-volt front socket and ample storage throughout the cabin. These all feature on the Expression+ trim level, which also includes an automatic electronic parking brake, LED daytime running lamps, tinted windows, 7-inch TFT instrument panel with digital speedometer, all-round electric windows, leather steering wheel, Bluetooth connectivity, 4 x 20W DAB radio with fingertip controls and an AUX input.
Dynamique Nav adds to this with automatic headlights and windscreen wipers, Visio active safety system providing lane departure warning, traffic sign recognition, automatic high/low beam headlamps; electrically adjustable, heated and folding door mirrors, hands free keycard, automatic dual zone climate control, Multisense system providing selective driving modes and ambient lighting, Arkamys 3D Sound 4x35W DAB Radio, and seven-inch touchscreen R-Link multimedia system including satellite navigation with live traffic updates and Western European mapping.
This is further enhanced on Dynamique S Nav with 17-inch diamond-cut alloys, rear parking camera with front and rear parking sensors, extra tinted windows to the rear and tailgate, and the unique-in-class 8.7-inch portrait touchscreen R-Link multimedia system.
At the top of the range, there is Signature Nav featuring 18-inch diamond-cut alloys, full LED headlights, black leather upholstery with Nappa leather steering wheel and electrochrome rearview mirror.
A part of the All-New Renault Mégane's sport range, the GT-Line Nav provides a more sporty and dynamic appearance with exterior and interior enhancements. To the front, a wider lower air intake with a honeycomb-pattern mesh is flanked by lateral scoops. Dark metal 17- or 18-inch alloy wheels and door mirror housings match the finish on the front air scoops and rear diffuser.
To the interior, the sports front seats feature additional lateral support and integral headrests, blue top-stitching and a chequered logo. The upholstery options, in fabric or Alcantara, provide hints of blue throughout to reflect the exclusive-to-GT-range Iron Blue body colour. The GT-Line Nav also has a bespoke steering wheel offering a firmer grip and model badging on the dashboard.
Carrying across the look of the GT-Line Nav, the All-New Renault Mégane GT Nav, developed and engineered by Renault Sport, offers a number of unique-in-class technologies such as 4Control four-wheel steering, Launch Control and Multi-Change Down. The TCe 205 Efficient Dual Clutch (EDC) six-speed gearbox – only available on the All-New Renault Mégane GT – is capable of 0-62mph in 7.1 seconds with a top speed of 145mph. Launch Control and Multi-Change Down are both inspired by Renault Sport's expertise in race cars.
When Launch Control is selected the car's sophisticated electronics fully manage getaways to ensure the fastest starts in complete control. This contributes to the GT's 0-62mph time of just 7.1 seconds. With the driver's left foot on the brake pedal, Launch Control is activated when the two gearshift paddles are simultaneously pulled and held, with activation confirmed by a 'Launch Control On' message in the instrument panel. With the driver's right foot pressed down on the accelerator, Launch Control activates as soon as the brake pedal is released.
Multi-Change Down allows the EDC transmission to downshift several gears in quick succession while braking, through one pull of the left gearshift paddle whilst in manual mode. The car will therefore be in the best gear for rapid acceleration out of corners.
Making the car more responsive and precise to drive, the four-wheel steer 4Control system gives the All-New Renault Mégane GT Nav the manoeuvrability of a shorter wheelbase vehicle. At speeds of less than 50mph in Sport mode and 37mph in other modes, the front and rear wheels turn in opposite directions, by up to 2.7 degrees at the back. In excess of these speeds, the rear wheels turn in the same direction providing reassuring stability when cornering.
The Multisense system is another technology from the segment above, offering four settings – Comfort, Sport, Neutral and Perso. The default setting – Neutral – provides the ideal balance between sportiness and comfort for everyday driving, comfort lends itself to a more economical driving style, while Perso allows the driver to personalise the set-up. Sport offers the most dynamic style, accessed directly via the R.S. Drive button. Sport mode reduces the steering inputs needed by 40 per cent and adjusts the accelerator, engine and transmission mapping accordingly.
The use of the Alliance CMF platform to manufacture the All-New Renault Mégane means a whole range of Advanced Driver Assistance Systems (ADAS) to improve safety are available. They include Adaptive Cruise Control; Active Emergency Braking; Lane Departure, Blind Spot and Safe Distance warnings; Overspeed Prevention with Traffic Sign Recognition; Automatic High Low Beam; Hands Free Parking and 360 degree parking sensors.
There are also twelve high-value equipment packages available, to personalise Mégane, depending on model.
Optional personalisation packages
The Climate Pack for Expression+ delivers automatic dual-zone climate control and automatic headlights and wipers. The Parking Pack on Dynamique Nav adds front and rear parking sensors and rear parking camera; for Dynamique S Nav and above, the Parking Pack Premium includes handsfree parking, rear parking camera and blind spot warning.
The Safety Pack for Dynamique Nav adds distance warning and automatic emergency braking; the Safety Pack Premium on Dynamique S Nav adds to the Safety Pack equipment and provides adaptive cruise control.
The Horizon Pack adds a sunroof and electrochrome rearview mirror and is available on Dynamique Nav and Dynamique S Nav models. Black leather upholstery is available on Dynamique S Nav as an option.
Look Packs are also available on Expression+ and Dynamique Nav, adding extra tinted windows and upgrading the wheels to 17-inch alloys and 17-inch diamond-cut alloys respectively. The BOSE Pack, adding a BOSE sound system with seven speakers, amplifier and subwoofer is available on Dynamique S Nav models and above.
On GT Nav models, Alcantara Packs are available, adding Carbon Grey alcantara upholstery with blue stitching, or two-tone blue and Carbon Grey alcantara upholstery to both GT-Line Nav and GT Nav.
Depending on trim level, other options include sunroof, 8.7-inch portrait touchscreen, full LED headlights, 18-inch alloy wheels and metallic paint.
Built at the Palencia plant in Spain alongside Kadjar, the Mégane uses the Renault-Nissan Alliance's versatile new Common Module Family (CMF) architecture, which is used, to date, on the Espace, Talisman and Kadjar. The platform allows a wide range of cars of different sizes to be created using a variety of modules consisting of out-of-view parts, and is based around five available modules: cockpit, engine bay, front underbody, rear underbody and electronic architecture.
At launch there is a choice of four engines on offer – two Energy TCe turbocharged petrol options with capacities and power outputs of 1.2-litres/130hp (manual and EDC) and 1.6-litres/205hp (GT only – EDC). The turbodiesel alternatives offer a 1.5-litre dCi 110 unit, with manual or EDC transmission, or a 1.6-litre dCi 130 engine.
An Efficient Dual Clutch (EDC) six-speed automatic gearbox is available with the dCi 110 and TCe 130 engines. The EDC automatic gearbox is standard with the TCe 205 engine for GT Nav. The dCi 110 Automatic EDC provides emissions as low as 98 g/km of CO2, compared to 96 g/km of CO2 for the manual version. The TCe 130 Automatic EDC offers 122 g/km of CO2 – just 2 grams more than its manual counterpart, while the TCe 205 engine for the GT Nav's emissions are 134 g/km of CO2.
The four engines and two transmissions offer fuel economy of up to 76.4mpg (NEDC Combined), with CO2emissions as low as 96g/km. This is with thanks to the sleek shape and low weight of the car, weighing from 1,340kg (TCe 130 versions); the engine's Stop&Start system, which is standard on all manual models; the availability of a double-clutch EDC transmission; an ECO driving mode which optimises the engine's performance when cruising; the Renault Driving eco2 feature to help owners adopt a more economical driving style and standard brake energy recovery.
In 2017, two further engine options will be available. The Hybrid Assist is a 1.5-litre dCi unit with electric assistance. The GT Nav offering will be enhanced with the arrival of a dCi 165 1.6-litre twin-turbo unit.
All versions provide the peace of mind of Renault's 4+ warranty and assistance package. The car is protected by Renault for four years or 100,000 miles (first two years have no mileage limit). In the event of a breakdown, Renault provides emergency roadside repairs or towing to the nearest dealer 24/7 every day of the year, plus three years' European cover. There is also a three-year paint warranty and 12 years' cover against corrosion.
Servicing is required once a year or every 18,000 miles.
UK ordering opens on 3 May, arriving in UK showrooms from July.
Mégane Technical Information
Version

Power
(hp @ rpm)
Torque
(Nm @ rpm)
0-62mph
(sec)
Top speed
(mph)

Expression+ TCe 130

130@ 5,500

205@ 2,000

10.6

122

Expression+ TCe 130 Auto EDC

130@ 5,500

205@ 2,000

10.3

124

Expression+ dCi 110

110@ 4,000

260@ 1,750

11.3

116

Expression+ dCi 110 Auto EDC

110@ 4,000

250@ 1,750

12.3

116

Dynamique Nav TCe 130

130@ 5,500

205@ 2,000

10.6

122

Dynamique Nav TCe 130 Auto EDC

130@ 5,500

205@ 2,000

10.3

124

Dynamique Nav dCi 110

110@ 4,000

260@ 1,750

11.3

116

Dynamique Nav dCi 110 Auto EDC

110@ 4,000

250@ 1,750

12.3

116

Dynamique Nav dCi 130

130@ 4,000

320@ 1,750

10.0

123

Dynamique S Nav TCe 130

130@ 5,500

205@ 2,000

10.6

122

Dynamique S Nav TCe 130 Auto EDC

130@ 5,500

205@ 2,000

10.3

124

Dynamique S Nav dCi 110

110@ 4,000

260@ 1,750

11.3

116

Dynamique S Nav dCi 110 Auto EDC

110@ 4,000

250@ 1,750

12.3

116

Dynamique S Nav dCi 130

130@ 4,000

320@ 1,750

10.0

123

Signature Nav TCe 130

130@ 5,500

205@ 2,000

10.6

122

Signature Nav TCe 130 Auto EDC

130@ 5,500

205@ 2,000

10.3

124

Signature Nav dCi 110

110@ 4,000

260@ 1,750

11.3

116

Signature Nav dCi 110 Auto EDC

110@ 4,000

250@ 1,750

12.3

116

Signature Nav dCi 130

130@ 4,000

320@ 1,750

10.0

123

GT Line Nav TCe 130

130@ 5,500

205@ 2,000

10.6

122

GT Line Nav TCe 130 Auto EDC

130@ 5,500

205@ 2,000

10.3

124

GT Line Nav dCi 110

110@ 4,000

260@ 1,750

11.3

116

GT Line Nav dCi 110 Auto EDC

110@ 4,000

250@ 1,750

12.3

116

GT Line Nav dCi 130

130@ 4,000

320@ 1,750

10.0

123

GT Nav 205 Auto EDC

205@ 6,000

280@ 2,400

7.1

143
Mégane Ownership Information & Pricing
Version

MPG*

CO2
(g/km)
BIK
(band %)
VED
(band)
Insurance
group

Price

Expression+ TCe 130

52.3

120

21%

C

14E

£16,600

Expression+ TCe 130 Auto EDC

52.3

122

21%

D

14E

£17,800

Expression+ dCi 110

76.4

96

19%

A

21E

£17,900

Expression+ dCi 110 Auto EDC

74.3

98

19%

A

21E

£19,100

Dynamique Nav TCe 130

52.3

120

21%

C

14E

£18,100

Dynamique Nav TCe 130 Auto EDC

52.3

122

21%

D

14E

£19,300

Dynamique Nav dCi 110

76.4

96

19%

A

21E

£19,400

Dynamique Nav dCi 110 Auto EDC

74.3

98

19%

A

21E

£20,600

Dynamique Nav dCi 130

70.6

104

20%

B

TBC

£20,600

Dynamique S Nav TCe 130

52.3

120

21%

C

14E

£19,100

Dynamique S Nav TCe 130 Auto EDC

52.3

122

21%

D

14E

£20,300

Dynamique S Nav dCi 110

76.4

96

19%

A

21E

£20,400

Dynamique S Nav dCi 110 Auto EDC

74.3

98

19%

A

21E

£21,600

Dynamique S Nav dCi 130

70.6

104

20%

B

26E

£21,600

Signature Nav TCe 130

51.4

124

21%

D

15E

£20,600

Signature Nav TCe 130 Auto EDC

50.4

125

22%

D

15E

£21,800

Signature Nav dCi 110

72.4

101

20%

A

22E

£21,900

Signature Nav dCi 110 Auto EDC

74.3

99

19%

A

22E

£23,100

Signature Nav dCi 130

68.9

106

21%

B

26E

£23,100

GT Line Nav TCe 130

52.3

120

21%

C

14E

£19,600

GT Line Nav TCe 130 Auto EDC

52.3

122

21%

D

14E

£20,800

GT Line Nav dCi 110

76.4

96

19%

A

22E

£20,900

GT Line Nav dCi 110 Auto EDC

74.3

98

19%

A

22E

£22,100

GT Line Nav dCi 130

70.6

104

20%

B

26E

£22,100

GT Nav 205 Auto EDC

47.1

134

23%

E

27E

£25,500
| | |
| --- | --- |
| Pack | Price |
| Climate Pack (Automatic Dual-Zone climate control, automatic headlights and wipers) – optional on Expression+ | £350 |
| Parking Pack (Front and rear parking sensors, rear parking camera) – optional on Dynamique Nav | £400 |
| Parking Pack Premium (Handsfree parking, rear parking camera and Blind spot warning) – optional on Dynamique S Nav and above | £500 |
| Safety Pack (Distance warning and AEBS) – optional on Dynamique Nav | £250 |
| Safety Pack Premium (Adaptive cruise control, Distance warning and AEBS) – optional on Dynamique S Nav and above | £400 |
| Horizon Pack (Sunroof and Electrochrome rearview mirrors) – optional on Dynamique Nav, Dynamique S Nav and GT Line Nav | £550 |
| Leather Pack (Black leather upholstery) – optional on Dynamique S Nav | £1,000 |
| Alcantara Pack (Carbon grey alcantara upholstery with blue stitching) – optional on GT Line and GT Nav only | £1,200 |
| Alcantara Pack + (Two-tone blue and carbon grey alcantara upholstery) – optional on GT Line and GT Nav only | £1,200 |
| Look Pack (17-inch alloy wheels and extra tinted windows) – optional on Expression+ | £310 |
| Look Pack Premium (17-inch diamond cut alloy wheels and extra tinted windows) – optional on Dynamique Nav | £410 |
| BOSE Pack (BOSE sound system: 7 speakers with a digital amplifier + 1 subwoofer) – optional on Dynamique S Nav and above | £500 |