Gordon Shedden, Sam Tordoff and Aron Smith scored a win apiece at Rockingham on 28 August, with the latter's victory making it a record 12 different winners from eight different marques in the 2016 Dunlop MSA British Touring Car Championship.
The title picture was further shaped during the three races with Tordoff leaving the Northamptonshire circuit just five points clear of triple champion Matt Neal in the overall standings.
Halfords Yuasa Racing's Shedden secured a lights-to-flag victory in the opener, after fending off fellow front-row starter Mat Jackson in the early stages.
Jackson soon fell back into the clutches of the Subarus, however, after both Jason Plato and Colin Turkington blasted by Josh Cook's MG off the line.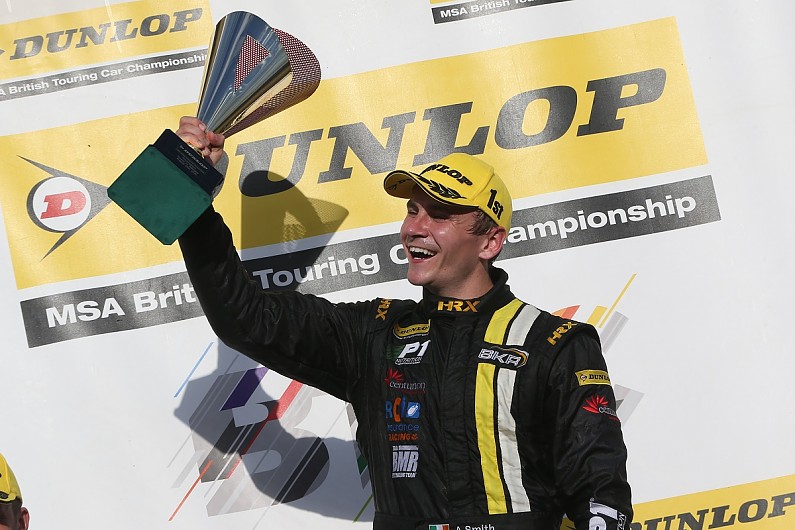 An incident on the opening lap led to a brief safety car period, but reigning champion Shedden produced a stellar restart before gradually pulling away from the chasing pack. The Honda Civic Type R took the chequered flag with Shedden having completed the perfect pole position, fastest lap and race win treble.
Jackson delivered a textbook defensive drive to keep Silverline Subaru BMR Racing duo Plato and Turkington at bay to second, whilst the MGs of Josh Cook and Ashley Sutton recovered from relatively slow starts to finish close behind. Post-race, however, Turkington was penalised and demoted to fifth by officials for gaining an unfair advantage in his tussle with Sutton.
Team JCT600 with GardX driver Tordoff won the second contest with an impressive performance.
Tordoff had earlier fought back from 28th on the race one grid to finish tenth, and he continued his surge through the order by picking his way past several rivals in the early stages of the second bout.
Running in third place by mid-distance, Tordoff then cruised up behind the Motorbase Performance duo of Andrew Jordan and Mat Jackson. He disposed of Jordan with consummate ease before repeating the trick by Jackson on lap nine.
The ballast-laden Ford of Jackson couldn't hang on to second either as he was first relegated by team-mate Jordan, with West Surrey Racing's Rob Collard following suit in the closing stages.
Sutton took another top five finish for MG Racing RCIB Insurance, although his stablemate Josh Cook was caught up in unfortunate first lap drama – contact between the MG6 and Plato's Levorg forcing both cars out of contention.
Neal maintained his consistent championship challenge with sixth, ahead of Aron Smith – the BKR man enjoying one his most competitive meetings of the season.
Smith then made it an incredible 12 different winners in the 2016 Dunlop MSA British Touring Car Championship – a record number in the illustrious 59-season history of the series – after the Irishman soaked up race-long pressure to win the final encounter.
The VW driver had to contend with three safety car periods and two double champions in his rear mirrors, but he dealt with every challenge superbly on his way to a first ever victory for the fledgling Team BKR outfit.
Neal and Jackson initially pressured Smith off the line, but the pair would later succumb to the charging Shedden and Turkington – both running the medium Dunlop SportMaxx compound.
The Team JCT600 with GardX BMW of Collard also looked to be a contender but he couldn't keep pace with Shedden's charge, as the Honda man disposed of Sutton, Jackson and team-mate Neal in quick succession.
Turkington was busy scything his Subaru through the order from 16th on the grid and when the dust settled during a third and final safety car period the Ulsterman found himself in a podium position.
The battle between Shedden and Turkington over the final three-lap shootout aided Smith's cause with the trio eventually crossing the finish line separated by just half a second.
Neal and Jackson held on to fourth and fifth respectively while Collard had to settle for sixth.
Tordoff failed to score in the finale but the Yorkshireman maintained his standings lead, albeit by a reduced five point margin. Honda's Neal and Shedden are next up in the order with Motorbase's Jackson also closing in. Collard and Turkington have drifted slightly after mixed results although the top 13 drivers all have a mathematical chance of winning the title.
WSR/BMW remain the leading Manufacturers' although Halfords Yuasa Racing has returned to the top of the Teams' table.
Motorbase Performance has surged into an unassailable points lead in the Independent Teams' standings, with Jordan topping team-mate Jackson in the Independent Drivers' championship.
Ashley Sutton further extended his advantage over Michael Epps in the Jack Sears Trophy.
Two events remain on the 2016 Dunlop MSA British Touring Car Championship calendar with the penultimate weekend taking place at Silverstone in three weeks time (17/18 September).
Gordon Shedden said: "I'm dead chuffed with that weekend. I broke the slipstream to the guys behind in race one and then focussed on keeping everything nice and smooth. In race two, I was on a bit of a hiding to nothing on the hard tyres with maximum ballast, and I really had to get my elbows out at the end because I wasn't going very fast at all by then! It would have been nice to win race three, but Aron (Smith) drove really well and didn't make any real mistakes and it would have required a fairly monumental lunge to try to get past. Then when Colin (Turkington) caught up during the final safety car period, I had to keep an eye on my mirrors too because he clearly had some good pace. Still, points make prizes as they say and we've closed back up to the top of the championship table. We will keep working hard and fighting to the very end."
Sam Tordoff said: "It's been a fabulous day, and a great recovery from free practice and qualifying. I made a mistake in FP1 which left us unprepared going into qualifying and that was reflected in the result. We took a bit of a gamble with the set-up for race one and it turned out to be an inspired decision that paid dividends. We made the car even better for race two, and I think that was the first time in a long time that we've seen the BMW's true pace. All credit to the WSR guys – for us to only lose a handful of points in the championship having started today 28th on the grid is incredible."
Aron Smith said: "It was unbelievable. We were down in the dumps a little bit after qualifying in the wet yesterday – we struggled a bit. Hats off to everyone at BKR today. They made it happen. They made it all come alive. The safety cars did give me a bit of a run for my money! Every time I saw a car go off I knew I'd have to be right on it at another restart. Luckily I was. Then, when I saw Colin Turkington at the back of Gordon Shedden, I was happier. I knew he'd have his hands full there. I'm absolutely over the moon, this was what we all needed."
Mat Jackson said: "Race two was a good race for us, obviously. The Subaru didn't look as if it had the legs through the corners but in traction they definitely had the advantage that comes with the rear-wheel drive. Every lap he (Jason Plato) was within striking distance of going up the inside at turn two but he couldn't quite make it past. That was a good result for us as a team really and it's certainly been a good weekend for our championship challenge."
Matt Neal said: "Rockingham is always a tough challenge physically, and in truth, we weren't too sure what to expect coming here but we kept our heads down, plugged away and came away with a solid bagful of points. The first two races were pretty heavy going, but when I got some clear air, the car felt really strong. 'Flash' warned me that I would be up against it on the hard tyres in race three, so I was over-the-moon to finish fourth – I really didn't anticipate being able to hang on as well as that. To come away with both of us firmly in the thick of the title fight is a great outcome. The pressure is mounting in the championship now with just two weekends to go and Silverstone could be a tricky one for us, but believe me, we'll be giving it everything we've got."
2016 Dunlop MSA British Touring Car Championship – Round 22 – Rockingham:
1
Gordon SHEDDEN (GBR)
Halfords Yuasa Racing
26:36.324 (78.75 mph)
2
Mat JACKSON (GBR)
Motorbase Performance
+2.561s
3
Jason PLATO (GBR)
Silverline Subaru BMR Racing
+2.869s
4
Colin TURKINGTON (GBR)
Silverline Subaru BMR Racing
+3.165s
5
Josh COOK (GBR)
MG Racing RCIB Insurance
+8.741s
6
Ash SUTTON (GBR)
MG Racing RCIB Insurance
+12.144s
7
Andrew JORDAN (GBR)
Motorbase Performance
+14.072s
8
Matt NEAL (GBR)
Halfords Yuasa Racing
+18.224s
9
Dave NEWSHAM (GBR)
Power Maxed Racing
+23.899s
10
Sam TORDOFF (GBR)
Team JCT600 Racing with GardX
+24.168s
2016 Dunlop MSA British Touring Car Championship – Round 23 – Rockingham:
1
Sam TORDOFF (GBR)
Team JCT600 Racing with GardX
22m44.838s (81.87 mph)
2
Andrew JORDAN (GBR)
Motorbase Performance
+2.886s
3
Robert COLLARD (GBR)
Team JCT600 Racing with GardX
+3.085s
4
Mat JACKSON (GBR)
Motorbase Performance
+6.863s
5
Ash SUTTON (GBR)
MG Racing RCIB Insurance
+15.027s
6
Matt NEAL (GBR)
Halfords Yuasa Racing
+18.661s
7
Aron SMITH (IRL)
BKR
+21.341s
8
Adam MORGAN (GBR)
WIX Racing
+22.624s
9
Aiden MOFFAT (GBR)
Laser Tools Racing
+25.489s
10
Gordon SHEDDEN (GBR)
Halfords Yuasa Racing
+28.536s
2016 Dunlop MSA British Touring Car Championship – Round 24 – Rockingham:
1
Aron SMITH (IRL)
BKR
29m49.905s (74.13 mph)
2
Gordon SHEDDEN (GBR)
Halfords Yuasa Racing
+0.400s
3
Colin TURKINGTON (GBR)
Silverline Subaru BMR Racing
+0.572s
4
Matt NEAL (GBR)
Halfords Yuasa Racing
+3.491s
5
Mat JACKSON (GBR)
Motorbase Performance
+4.519s
6
Robert COLLARD (GBR)
Team JCT600 Racing with GardX
+4.936s
7
Adam MORGAN (GBR)
WIX Racing
+5.686s
8
Jake HILL (GBR)
RCIB Insurance Racing
+6.227s
9
Aiden MOFFAT (GBR)
Laser Tools Racing
+10.578s
10
Jason PLATO (GBR)
Silverline Subaru BMR Racing
+10.899s